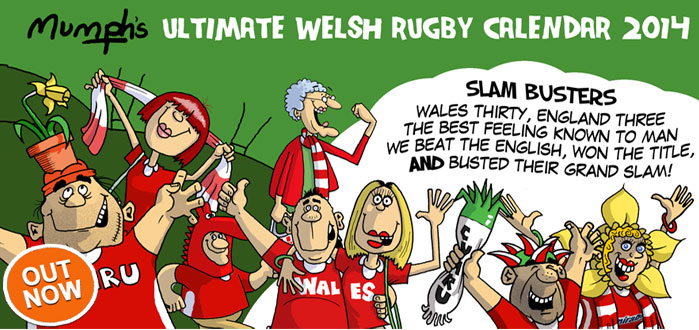 The Ultimate Gift for Welsh Rugby Fans Everywhere
Mumph's Ultimate Welsh Rugby Calendar is back. Now in its second year and building on last year's success. With 13 funny poems and cartoons all based on the wonderful world of Welsh Rugby culture. Characters like Barry the Mouth, Dai Lema and The Secret Weapon will bring a smile to your face all year round. The A5 desktop calendar has been distributed to over 200 shops throughout Wales but if you can't get hold of a copy its online here for just £6.99 plus postage. Make sure of your copy now. A must have for Welsh Rugby Fans everywhere.

Three new Twm Tomato Children's Books
The very popular children's book character, Twm Tomato features in a further 3 new books this autumn. The latest books, Published by Gwasg Garreg Gwalch are written in Welsh with English translation and follow on from the great success of the first two books published last year.
The new titles are Twm Tomato and the yellow ball, Twm Tomato and the fireworks display and an activities book titled Fun with Twm Tomato.
"It's very satisfying to have five books in the series." Said writer and artist Mal Humphreys. The series is very unique, in that they are the worlds only upside down back to front books. You can read the story from back to front, turn the books upside down and the story continues back to the front.
 "It's lovely to see the expressions on the children's faces when they try to work out how the pictures can work both ways." Said the illustrator "I believe the books are a very useful educational tool in encouraging children to open their minds and look at things from differing perspectives."
 The books are available at book shops all over Wales and online and will make perfect stocking fillers for children under 7 years of age
YOU CAN ORDER BOOKS FROM THE TWM TOMATO SERIES

HERE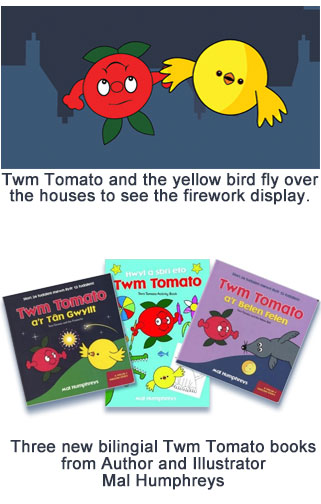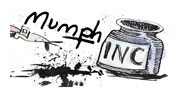 Cartoonist Mumph's take on Welsh politics
Mumph Exhibition at the Galeri Caernarfon
Since the early 1980s, Welsh politicians have had to worry about how the cartoonist Mumph will portray them -and dread that he will ignore them. Now a selection of his work has gone on show at the Galeri in Caernarfon. Mumph has drawn over 3,000 cartoons for the Western Mail alone and has also produced work for Daily Post and currently for the South Wales Echo. Lord Wigley popped into the exhibition to check up on Mumph.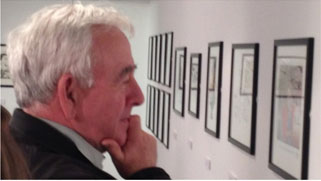 YOU CAN ORDER BOOKS FROM THE TWM TOMATO SERIES

HERE
Mumph is available for private commissions. Get in touch through the contact page